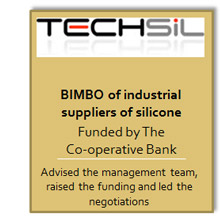 DEAL SEALED FOR TECHSIL
Fresh blood and new ideas were brought to  Techsil Ltd following a multi-million pound, buy-in management buy-out (BIMBO) transaction.  An experienced managing director took a controlling interest, buying out the major shareholder and other management shareholders were able to extract value from the business but also maintain ongoing management and equity involvement.
The specialist distributor with warehouse and offices in Bidford, Warwickshire distributes products and high performance liquid polymers, typically used for bonding, sealing or coating applications, to a wide range of markets across Europe.