Corporate Acquisitions
Acquiring another business is a common way to expand your existing business. However, many acquisitions do not realise the benefits that were anticipated and can have a detrimental impact on the existing business. So acquire with caution.
Initially, we would want to help you decide on your acquisition criteria and why you want to make an acquisition.
Once the criteria and approach is formulated, we provide a proactive and focussed acquisition search service for numerous clients. We focus on companies known to be for sale as there is then a "willing seller". Instead of waiting for these opportunities to arise we actively search for them and are also introduced to numerous "off market" transactions. We also carry out acquisition searches of companies not known to be for sale to meet a client's specific criteria.
We can advise you on:
Identification of suitable targets
Strategic review and competitor analysis
Approaching a target
Assessing the target
Valuation
Structuring and making an offer
Negotiation and assistance with negotiations and transaction closure
Advice on funding options
Securing finance if required
Project management of the transaction and other advisers and supervising due diligence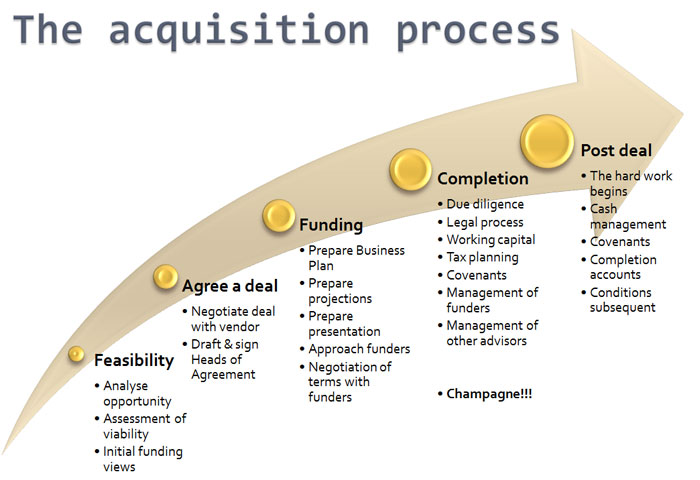 If you are considering making an acquisition, please contact us for a confidential exploratory meeting.
You may also like to download our guide to acquisitions.