Company Sales
We have extensive experience of successfully selling private companies and businesses. We have an enviable reputation for achieving the best possible terms and obtaining prices in excess of the vendors' expectations.
Exit strategy
We work with all types of owners of companies – entrepreneurs who have spent their lives building successful owner managed businesses, management teams and their private equity partners who have bought their own businesses with a view to selling them on for a capital gain, and corporate owners of businesses looking to divest particular subsidiaries. In all cases owners are linked by one simple fact - when they decide to exit their business they want to make sure that they get the best deal, and getting the best deal involves planning for the final exit and presenting the business in the best possible light.
Exiting businesses should not be seen as a game of chance. Planning allows the business owner to remain in control of any process, and focuses the business on the most important, value enhancing strategies prior to an exit. At M3 we believe that all business owners, where an exit is likely at some point in the future, should formulate an Exit Strategy.
If you are at the early stage of considering an exit, please contact us for a confidential exploratory meeting about exit strategy.
You may also like to download our guide to exit planning.
Selling a business
There are many reasons why shareholders may decide to sell a business. It could be as a result of retirement, a succession issue, or a venture capitalist looking to exit, or simply reaching a point where the business requires the support of a larger group to provide further investment and opportunities for expansion. Or it may be that you have received an unsolicited approach from a potential purchaser. In the case of a subsidiary, the parent company may be focusing on core activities, refinancing its business, or in need of cash for investment elsewhere.
Whatever the reason for selling, the decision to sell should be based upon some clearly defined objectives and following consideration of the alternatives. The sale process can be time consuming and stressful, and it is important to receive advice from experienced professionals to help you shoulder this burden.
M3 has extensive experience of acting for both sellers and buyers, and therefore appreciates the issues from both sides of the fence. We can advise you through all the stages of selling a business as highlighted below. Importantly, we spend considerable time and resource upfront carrying out an extensive review of the company, its market and likely acquirers. Its so important to start the sale process fully informed and prepared.
Stages of a disposal: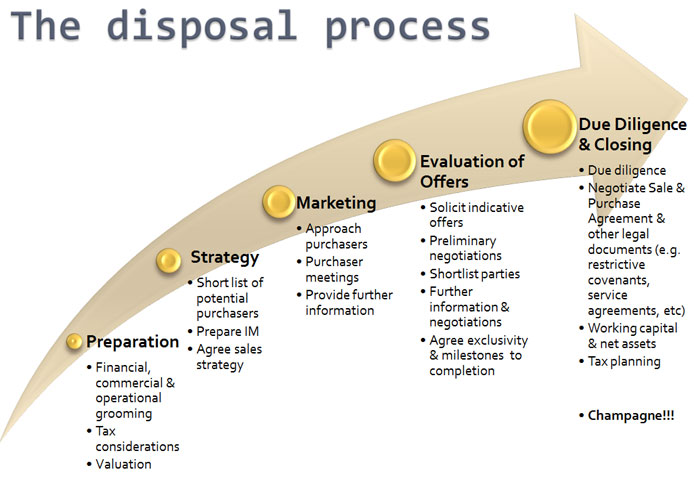 Feel free to contact us for a confidential exploratory meeting.
You may also like to download our guide to exits.