Management Buy Out
The purchase of a business by its existing management
A Management Buy Out ("MBO") is a once in a lifetime opportunity. Whatever the motivation for the MBO, the uniqueness of the event presents many complex issues. Whether management are seeking to acquire an equity interest or a controlling stake, planning and solid financial advice are essential. M3 is able to provide the advice and support to help you secure a successful transaction.
If you are part of a management team with an entrepreneurial spirit but find the whole concept of MBOs baffling, then don't worry. There are many who feel exactly the same way.
As a manager, you have to realise that an MBO could be the best opportunity that ever comes your way. Looking around, we see countless opportunities for MBOs. They exist in private family businesses where the owner wishes to retire, all the way up to overseas multinationals, which may have decided to exit their operations in this country.
With family firms there is always an assumption that it will be passed on to a family member but this is not necessarily the case. There is also no reason why MBO structuring would not work in the case of a multinational seeking to exit a particular market, provided the deal is properly planned from an early stage.
MBOs are an ideal opportunity for managers to satisfy their entrepreneurial aspirations and a chance to acquire a significant equity stake in their own company. This is a desire many have but only a few ever act upon as many have doubts about how to pursue that dream.
We can assist you at all of the stages of your MBO: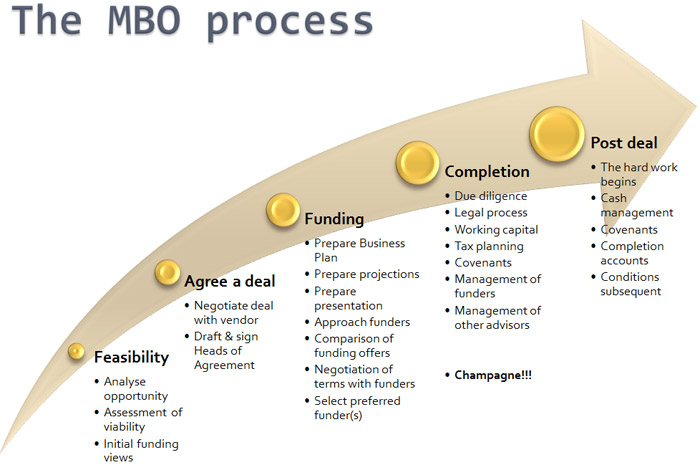 Feel free to contact us for a confidential exploratory meeting.
You may also like to download our guide to MBOs.