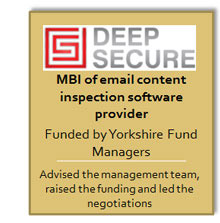 BUY IN TO HIGH SECURITY
M3 Corporate Finance has advised a management team on the £3.5 million Management Buy In of the Specialist Products Division of Clearswift, the information security company, through a new company called Deep-Secure Limited.
Since 2001, the business has built up a reputation as the premier provider of high assurance email content inspection and network separation products for defence and government security around the world so as to defend sensitive and protected information from intruders.
These customers require the hardware platform, operating system, application firewall and mail guard are evaluated under internationally recognised criteria, requiring very special levels of security knowledge and development expertise. Specialist Products uniquely provides all the evaluated components within a highly configurable solution set, with fully deployed customers in the America's, Asia Pacific and EMEA regions.