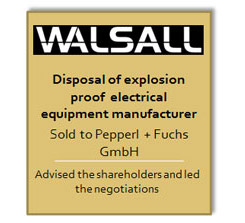 WALSALL COMPLETES EXPLOSIVE CROSS BORDER DEAL
Walsall Limited has been acquired by Pepperl + Fuchs GmbH, the world leading German designer and manufacturer of electronic sensors and components for use in the fields of process & factory automation.
With its 117 year heritage and its position as a highly respected global manufacturer and supplier of explosion proof electrical equipment, the business has attracted a strategic price. Walsall has been owned by father & son, Roger & Rob Whorrod, since 1995. During that time, millions of pounds of investment has been made in expanding the product range and opening offices in Asia Pacific, United Arab Emirates, Texas and Brazil.
Walsall is focussed on serving major oil and gas companies such as Shell, BP, Chevron and worldwide engineering companies such as Petrofac, KBR, Foster Wheeler & Snamprogetti.