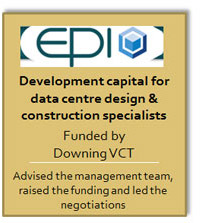 DEV CAP FOR DATA CENTRE SPECIALISTS
M3 Corporate Finance has advised the shareholders of EPI, the data centre design and construction specialists, on their multi million pound development capital / equity investment from Downing VCT.
M3 held a competitive process involving a number of private equity houses before negotiating the deal with Downing on behalf of the existing team.
Simon Gardner, EPI Commercial Director commented: "This is fantastic news for our customers. The investment will allow EPI to grow our product and service offerings with across the board benefits for present and future clients".