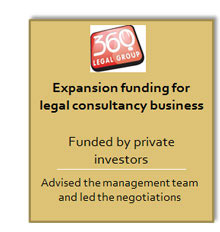 M3 HELP SQUARE THE FUNDING CIRCLE FOR 360 LEGAL
M3 Corporate Finance has successfully raised equity finance for 360 Legal to help it achieve its plans to grow.
The 360 Legal Group has its roots dating back over ten years. It has evolved into a successful legal consultancy offering financial and strategic support to legal practices across the UK who are looking to expand, merge, diversify and take advantage of the freeing up of restricted practices historically imposed on legal firms.
They provide support in training clients to better manage cash flow and financial controls as well as helping firms to restructure and can introduce clients to a multitude of third party suppliers such as Professional Indemnity insurers and Non Executive Directors.