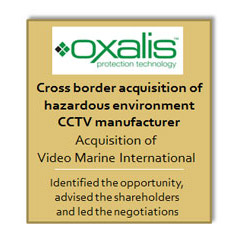 OXALIS CONTINUES TO GROW WITH ACQUISITION OF VMI
The Oxalis Group, the Midlands based protection equipment manufacturer, has continued its expansion trail with the acquisition of the UK, Italian & Singapore businesses of Video Marine International ("VMI"), the specialist CCTV producer for hazardous environments in a deal originated and advised by M3 Corporate Finance.
The Oxalis Group develops and manufactures products and systems used to protect people, processes and the environment. The VMI acquisition follows two other recent acquisitions in the lighting sector. These three acquisitions complement the Smith & Prince (now Oxalis Lighting) hazardous lighting business already owned by Oxalis.
VMI specialises in the design and manufacture of high quality CCTV solutions for a wide variety of marine based industries focussing on hazardous environments.
M3 Corporate Finance sourced the acquisition opportunity, assisted with negotiations and advised on the deal structure as part of a lead advisory service.