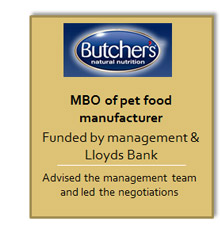 FIT AS A BUTCHER'S DOG
Butcher's Pet Care is one of the leading players in the dog food market. It was acquired by its founder, Graham Baker, from other family members.
Baker started the company business 25 years ago when he spotted the market potential of feeding cooked fresh food to dogs. His is now supported by a 200-strong team of employees and a board of directors from blue chip organisations & FMCG brands.
As a result Butcher's, which has built its business on providing 100% natural nutrition to pets, now stocks a highly successful portfolio of products including Butcher's, Butcher's Choice and Olli cat food to major grocery chains.
The company continues to focus on product innovation. In line with the premiumisation of the market, Butcher's has launched Superior, a super-premium range.
Gary advised on this deal whilst at a previous firm.