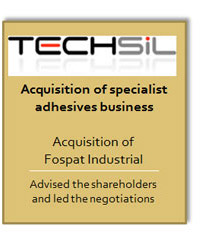 TECHSIL SEALS WIDER PRODUCT OFFERING
Warwickshire based distributor Techsil Limited broadened its product offering and customer reach with the acquisition of Fospat Industrial Limited, supported by M3 Corporate Finance.
Established in 1989, Techsil supplies RTV silicone, adhesives, sealants, encapsulants, conformal coatings, casting and mould making materials to a varied industrial market.
Fospat has been established for over 30 years and is based in Tamworth. It supplies glue guns and adhesives for use across all markets - ranging from specialised industrial products to light duty hobby and craft solutions.